The Perfect Vegan Cinnamon Rolls Recipe (no mixer)
Today, I am going to show you how to make the perfect vegan cinnamon rolls! This is a plant-based or vegan version of this classic fall spiced sweet pastry, but I promise that you won't even notice the difference!
What do you need to make vegan cinnamon rolls at home?
To make these vegan cinnamon rolls, you're going to need a few basic ingredients. First you'll need sugar, vegan butter, and warm plant-based milk. In this recipe I used warm almond milk, but you can substitute any dairy-free milk alternative like oat milk, soy milk, or coconut milk.
Most rolls are typically made with a yeast dough and these vegan cinnamon rolls are no different, so you'll also need one packet of active dry yeast for this recipe.
I filled these cinnamon rolls with vegan butter, brown sugar, dates, and warm baking spices like cinnamon, ginger, cardamom, and cloves. They are finished with a decadent vanilla bean glaze.
Other delicious filling ideas for your vegan cinnamon rolls:
cinnamon and raisins
fruit preserves
apple butter
warm baking spices and dates
brown sugar and walnuts
Baking vegan cinnamon rolls can be a fun activity for children
This vegan sweet treat is so easy to make, and it's also a fun activity for children! Everyone can get involved, and when you break up the recipe into individual responsibilities, it can be very fulfilling for the little ones. For example: have one set of little hands measure out the dry ingredients like the flour, the salt, and the baking spices like the ground cinnamon, the ground ginger, the ground cardamom, etc. Have another set of little hands working on the wet ingredients like the plant based milk, the butter, the sugar, the yeast, etc.
A note about making vegan cinnamon rolls
I've done a lot of research over the process of creating this recipe, and I want to stress that cinnamon rolls simply start out as a yeast dough which is then allowed to rise multiple times before baking and topping with a glaze or frosting.
Make sure that you set aside enough time for this activity, and please check out my recipe for the perfect soft and fluffy vegan cinnamon roll – you will be so happy that you did!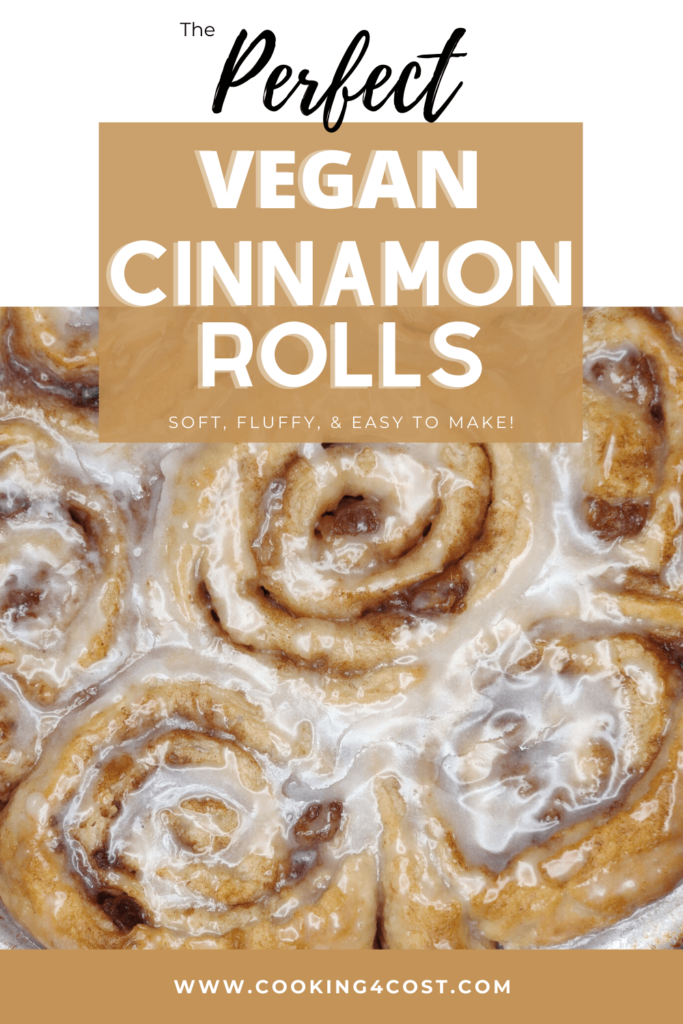 Please let me know in the comments below if you enjoyed this recipe! 💕
The Perfect Vegan Cinnamon Rolls Recipe (no mixer)
Looking for the perfect recipe for vegan cinnamon rolls? This plant-based version of the classic fall spiced sweet pastry is easy to make and filled with warm baking spices, vegan butter, and brown sugar. Plus, it's the perfect activity for children! No stand mixer required. 
Prepare the dough
Rub two round pie pans with plant-based butter or line with foil. Set aside.

In a medium sauce pan, whisk together the almond milk, melted butter, and sugar over medium-low heat. Remove when warm, the mixture should be room temperature or between 100-110˚F (37-43˚C).

Don't proceed to the next step if your liquid is too hot! Allow it to cool to the appropriate temperature before moving on to the next step.

Sprinkle the entire packet of yeast evenly over the warm mixture and let set for 1 to 3 minutes.

Add 4 ½ cups of flour, cinnamon, cardamom, ginger, cloves, and 1 teaspoon of salt to another large mixing bowl. Whisk together.

Make a well in the center of the flour mixture and slowly pour in the almond milk mixture and mix with a wooden spoon until just combined.

Cover the bowl with a towel or plastic wrap and set in a warm place to rise for at least 1 hour.

Preheat oven to 350˚F (180˚C). After 1 hour, the dough should have nearly doubled in size. 

Remove the towel and add an additional ½ cup (95g) of flour. Mix well, then turn out onto a well-floured surface.

Knead the dough lightly using your hands, adding a little flour as necessary, until the dough loses its stickiness and does not stick to the surface.

Roll the dough out into a large rectangle, about ½-inch (1 cm) thick.

Spread the softened plant based butter evenly over the dough.

Sprinkle evenly with brown sugar and cinnamon mixture, layering the two if you like.

Roll up the dough starting from the bottom, forming a log, and pinch the seam closed. Place the log seam-side down.

Cut the log in half, then divide each half into 7 evenly sized pieces. About 1½ inches (8 cm) thick each.

Place 7 cinnamon rolls in each pie pan, one in the center, six around the sides. Cover with plastic wrap and place in a warm place to rise for 30 minutes.

Remove the towel. Bake the cinnamon rolls in a preheated oven at 350˚F (180˚C) for 25-30 minutes, until golden brown.

Remove the finished vegan cinnamon rolls from the oven, and allow to cool slightly while you make the glaze.
Make the glaze
In a medium bowl, whisk together powdered sugar, almond milk, vanilla beans (if using) and vanilla extract until smooth.

While still warm, drizzle the freshly baked cinnamon rolls with the vanilla glaze. Enjoy!
vegan cinnamon rolls
Did you make this recipe?