Welcome, fellow cooking enthusiasts, to my ultimate guide on understanding the wonderful world of the tofu press! Join me as we embark on a flavorful journey, unlocking the secrets of extracting maximum flavor and texture from your tofu creations.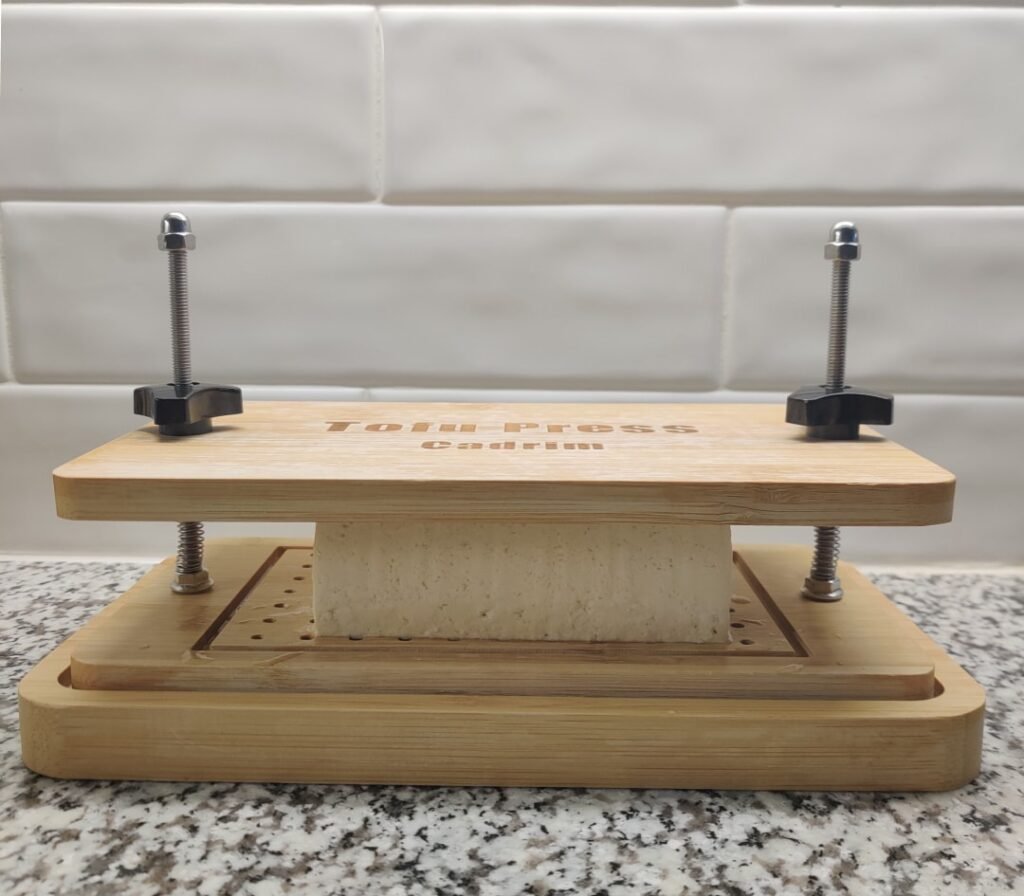 The backstory: I finally bought a tofu press!
I remember a friend telling me about these things yeaaarrsss ago and at the time I wasn't a big fan of tofu. So I didn't bother to look into it because I thought I just didn't like it. Fast forward to today, and I now eat tofu 2 to 3 times per week.
This tofu press is such a cool Amazon find and I think it's definitely a good investment if you make a lot of Tofu at home – or plan to do so.
What is tofu press?
Let's start by defining what exactly a tofu press is. Picture it as a trusty kitchen tool specifically designed to effectively remove moisture from tofu. Typically made of sturdy plastic or stainless steel, tofu presses usually feature adjustable pressure mechanisms that will change your tofu prep game.
If you look up "Tofu Press" on Amazon, there are tons of options that will come up. After a lot of research (read: months) I chose this brand because all of the components are wood (Bamboo) and metal, and only the wooden parts touch the tofu. I also like that the knobs used to tighten the press are big and easy to grip.
How does a tofu press work?
Now that you know what a tofu press is, let's dive deeper into how it works its magic. Imagine a gradual exertion of pressure on your tofu block, gently squeezing out excess water. This process not only enhances the tofu's texture but also allows it to absorb marinades or seasonings more effectively. Say goodbye to bland and watery tofu, and hello to a world of flavor!
Why would you even need a tofu press? 😅
Why bother using a tofu press, you may ask? Well, before this thing I never really liked tofu because it's very wet and you can taste that in certain dishes. Enter the tofu press.
Using a press means improved flavor, enhanced texture, and even reduced cooking time. Pressing tofu makes it more firm, and instills an almost meaty-like texture to it. A tofu press can also help infuse more flavor into your dishes.
So far I love it, and I've had it for almost six months now. It's like giving your tofu a refreshing makeover, making it the star of delicious stir-fries, savory sandwiches, and vibrant salads. Get ready to take your tofu game to a whole new level!
Some benefits of using a tofu press:
To create a texture with more of a bite: Pressing tofu makes it more firm, which can help the tofu hold its shape while cooking instead of falling apart
To add flavor through marinating: After pressing the liquid out of the tofu, your marinade will be able to soak in much easier.
To remove moisture: Pressing is the best way to drain tofu to remove moisture. The process makes tofu easier to cook with, while still retaining its shape and flavor
To increase water expulsion: The longer you press the tofu, the more liquid will be removed from it, resulting in a firmer texture
To avoid crumbling: Softer tofu is better suited for adding creamy texture to desserts or for blending into smoothies. Extra firm or at least firm tofu is better for cooking. Pressing tofu can help avoid crumbling while cooking
To make it more delicious: A block of tofu is like a big saturated sponge. Blotting it dry with towels or using a tofu press can help remove excess water, allowing the tofu to absorb more flavor
How to choose the right tofu press
There are so many different tofu presses on the market right now, it can be overwhelming. When choosing a tofu press, it is important to consider what you are going to be using this tool for. If you are using it only for yourself, then you can get away with buying a smaller one. However, if you have a large family and want to make tofu more often, then a larger tofu press would be better suited for your needs.
To help you choose the right tofu press, here are some things to think about:
Cost – How much are you willing to spend on this kitchen tool? A good tofu press can range from $20-$100 depending on what materials they are made out of and how many pounds they will hold at one time. The more expensive ones tend to be made out of stainless steel materials while the more economical ones tend to be made out of plastic or wood materials.
Materials – What materials are you comfortable using with your food? Tofu presses can be made with stainless steel, plastic, wood, bamboo, ceramic, etc. Stainless steel is easy to clean and will last forever! It is important to note that not all materials are safe to use with food. Some materials have chemicals that could leach into your food and potentially cause health issues in some people. I encourage you to do your own research to make an informed decision.
Size – How much tofu can you press at one time? Decide on what size tofu press you need. The best way to do this is to measure the size of your tofu block. You can use any measuring tape, ruler or yardstick in order to get the measurement. If you are using a digital scale, then you will have an exact measurement for the size of your tofu block.
If you have a larger family, you may want to invest in a larger tofu press that can press a 16oz (1lb) block or larger at one time.
Best practices for using a tofu press
Using a tofu press does require some forethought. On the shorter end, it can take about 2 hours to thoroughly press the water out. I tighten the press every 15-30 minutes or so. Always use 'Firm' or 'Extra Firm' and save yourself some time.
Here's the truth: This tofu press has helped me become more intentional with my meal planning and meal prep in general. So that's a major plus for me because I'm always planning ahead for the next delicious meal.
Here are some tofu recipe ideas I've made recently using this tofu press.
Tofu is such an affordable protein source and pairs nicely with a variety of dishes. Shop around because some stores have really great deals on it. I'm talking $1.65 per lb. 🔥
BBQ Tofu with a nice homemade Dry Rub
Tofu Stir-Fry with assorted vegetables
Orange Tofu with Cabbage
General Tso's Tofu with Green Beans
From watery to wonderful: Transform your tofu with a tofu press
Congratulations, culinary explorers! You've reached the end of our ultimate guide to understanding the tofu press. I hope you now appreciate the importance of this nifty tool in elevating tofu-based dishes to new heights of deliciousness. It's time to get out there and experiment with your tofu press, unlocking the full potential of tofu in your culinary endeavors. You can get your hands on my favorite tofu press via Amazon.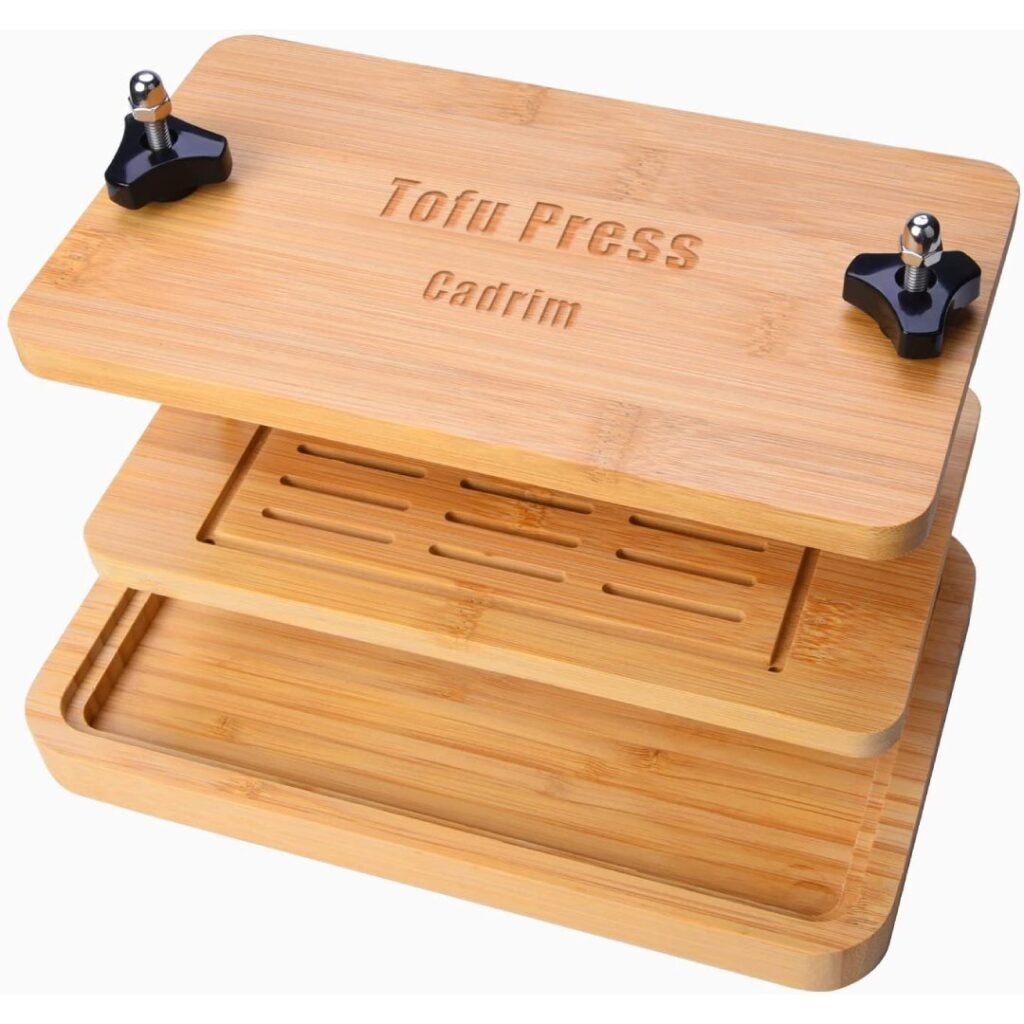 Remember, I'm here to support you every step of the way. If you have any questions or want to share your tofu press experiences, drop a comment below. 👇🏾